Skip to Content
Have I Heard Scott Dolphin Talking About You?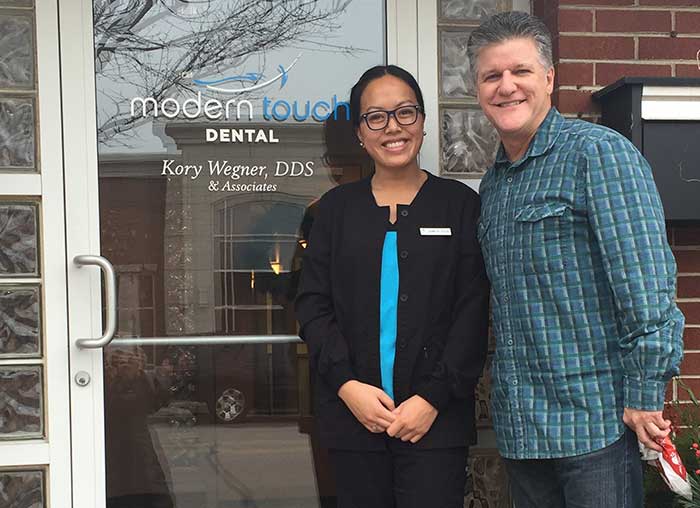 Patient confidentiality is of utmost importance at Modern Touch Dental. So, in any other circumstance, I'd say, "I'm not legally authorized to tell you information about any of our patients." But, we've received expressed written permission from Scott himself to tell you that – YES! – Scott Dolphin of FM106.1's nationally acclaimed, award-winning "Karen, Scott, and Radar" IS a patient here at Modern Touch Dental.
Scott approached our team right at the end of 2015 with a New Year's Resolution we've heard a million times. "I want to take great care of my teeth this year! I want to make my smile as wonderful as it could be!" Admirable, of course, but the unfortunate truth is that so many people, either out of dental anxiety, cost concerns, or inconvenient office hours, don't ever take that first step of scheduling a new patient exam with us. Another common 'misstep' is going to see your hygienist but not following through on diagnosed treatment or recommendations for proper at-home care.
At Modern Touch Dental, we make it our mission to provide you with the best dental care available. We are committed to patient convenience, comfort, and confidence. Scott understood and appreciated that and took a chance on us. And, boy, are we both glad he did!
Scott's been documenting his journey with us on-air and on his blog. Find out what's next for Scott's smile by tuning in to FM106.1 each morning and heading to fm106.com on Thursdays!
If you've personally heard Scott Dolphin talking about us or you've read his blog, let your friends know… let your co-workers know… let us know. We love the buzz!